Rising Stars
Sophia Makela, soprano
Cheryl Emery-Karapita, piano
July 5 – 7:30pm at Casa
Music in the Garden
2023 Centric MusicFest String Quartet
Alina Khvatova, first violin
Eva Toncheva, second violin
Gabriel Kastelic, viola
Michael van der Sloot, cello
July 6 – 8pm at Nikka Yuko Japanese Garden
Music in the Country
2023 Centric MusicFest String Quartet
Alina Khvatova, first violin
Eva Toncheva, second violin
Gabriel Kastelic, viola
Michael van der Sloot, cello
July 7 – 7:30pm at The Venue of New Hope
Rhythm & Keys
jamani duo
Cheryl Emery-Karapita, piano
Ryan Kolodziej, piano
July 8 – 7:30pm at Casa
Fauré and the Future
Brad Parker, piano
2023 Centric MusicFest String Quartet
Alina Khvatova, first violin
Eva Toncheva, second violin
Gabriel Kastelic, viola
Michael van der Sloot, cello
July 9 – 2 pm at Casa
Create Your Own Trio
Create your own unique trio of concerts and enjoy the festival the way you want… for less! Regular ticket cost $35. Trio Ticket Cost: Pick 3 concerts at $30 each for a total savings of $15!
Eligible Concerts: Rising Stars, Music in the Country, Rhythm & Keys, and Fauré and the Future.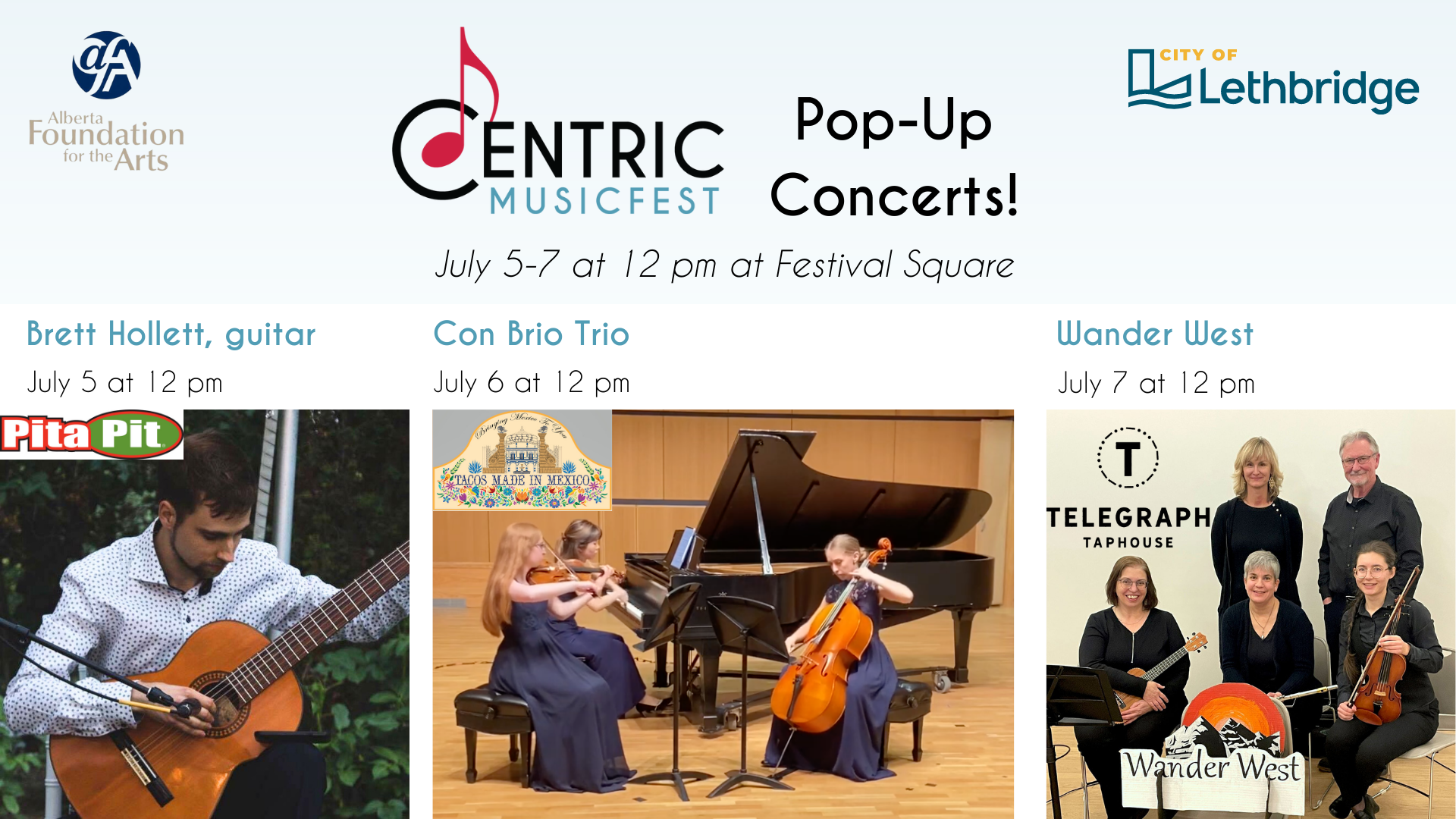 Pop-Up Concerts coming to Festival Square!
Centric MusicFest 2023 will once again be featuring local musicians in outdoor concerts.
For anyone looking to liven up their lunch hour, keep an eye on this space and click here for more info!
Our Festival
Since its inaugural event in 2014, Centric MusicFest, has become a permanent fixture in the City of Lethbridge's flourishing art and music scene. Building upon the success of its founder, Jesse Plessis, the annual summer classical and art music festival has grown under the stewardship of Artistic Director Ryan Kolodziej to feature a combination of local and visiting world-class Canadian and international musicians from coast-to-coast-to-coast. Read more...
Newsletter Sign-Up
For news and information about upcoming shows, sign up for our newsletter!